Hello there! Hope you don't mind us butting in for a moment with some shameless promotion.

First let us introduce ourselves… We are Gary and Erin Slasher, of Hor-RIFF-ic Productions, the goriest couple in movie riffing to date. We've started our own line of Horror-themed iRiffs over at Rifftrax.

A little bit about us… He's your typical cleaver wielding psychopath and she's a brain devouring zombie with a heart of gold. Having failed to make it in the horror movie biz ourselves we've set out to do the next best thing -- cut our successful colleagues to ribbons with sharp tongues and razor-like wit! No horror movie is safe. It's going to be a bloodbath!

We'd like to invite you to check out our First Victim… Friday the 13th.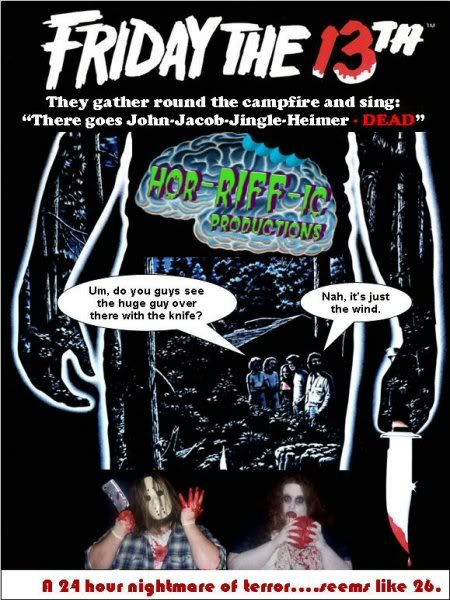 One of the most important horror movies ever, Sean Cunningham's classic is dissected by the sharp tongues of this deadly duo whose bitterness over not having made it big in the horror industry has driven them mad.

Check out a sample of our movie below…



You can purchase our iRiff (for only $1.99!) here.

If you like what you see, please feel free to friend us, or you can also add us on Myspace.

If you don't, we'll kill you and eat your brains.

Thanks!